TRAINING EVALUATION DISTANCE TRAINING EVALUATION OF THE KIRKPATRICK MODEL: A CASE STUDY OF THE COMMUNICATION SKILLS TRAINING BATCH II AT FINANCIAL AND EDUCATION TRAINING AGENCY YOGYAKARTA
Jamila Lestyowati

Balai Diklat Keuangan Yogyakarta, BPPK, Kemenkeu

Ilvi Rahmi

Kemenkeu
Abstract
Communication has an important role in supporting task implementation and performance achievement. Human Resources (HR) as an important asset of an organization are required to have communication competencies. At the Ministry of Finance, communication is one of the managerial competencies that employees must possess. To improve communication competence, Communication Skills Training was held. This paper aims to evaluate the Communication Skills Training at the Yogyakarta Financial Education and Training Agency. The evaluation method used is the Kirkpatrick level 1 and 2 methods to measure participant satisfaction with the instructor and administrator, as well as to measure changes in the competence of trainees before and after training. This research is a type of evaluation research using primary and secondary data sources. Primary data comes from questionnaires, test results, and observations, and secondary data comes from document searches. The analysis method uses IPA (Importance Performance Analysis) analysis and paired t test. The results showed that the participants were satisfied and rated the teaching and administration very well with a score of 4.70 for the evaluation of the administration and 4.81 for the evaluation of the trainer. Meanwhile, the participant evaluation shows that there is an increase in the knowledge of the training participants before and after the training.
References
Arifin, Z. (2017). EVALUASI PEMBELAJARAN Prinsip Teknik Dan Prosedur. Rosdakarya.
Arikunto, S dan Jabar, C. S. (2014). Evaluasi Program Pendidikan. Pedoman Teoritis Praktis Bagi Mahasiswa dan Praktisi Pendidikan. Edisi Kedua. Bumi Aksara.
Arikunto, S. (2018). Dasar-Dasar Evaluasi Pendidikan Edisi 3. Bumi Aksara.
Armstrong, M. (2008). Strategic Human Resource Management: A Guide to Action 4th ed. Kogan Page US. http://library1.nida.ac.th/termpaper6/sd/2554/19755.pdf
Aula Rahmawati, H. (2019). Pengaruh Manajement Talenta Terhadap Kinerja Karyawan Melalui Retensi Karyawan Pada Pd. Bpr Bank Daerah Lamongan. Jurnal Ilmu Manajemen (JIM), 7(2), 419–429.
Bacher-Hicks, A., Goodman, J., & Mulhern, C. (2021). Inequality in household adaptation to schooling shocks: Covid-induced online learning engagement in real time. Journal of Public Economics, 193, 104345. https://doi.org/10.1016/j.jpubeco.2020.104345
Bhatia, M., Stewart, A. E., Wallace, A., Kumar, A., & Malhotra, A. (2021). Evaluation of an In-Situ Neonatal Resuscitation Simulation Program Using the New World Kirkpatrick Model. Clinical Simulation in Nursing, 50, 27–37. https://doi.org/10.1016/j.ecns.2020.09.006
Bijani, M., Rostami, K., Momennasab, M., & Yektatalab, S. (2017). Evaluating the Effectiveness of a Continuing Education Program for Prevention of Occupational Exposure to Needle Stick Injuries in Nursing Staff Based on Kirkpatrick's Model. Journal of the National Medical Association, 110(5), 459–463. https://doi.org/10.1016/j.jnma.2017.11.002
BPPK. (2020). KAP Pelatihan Communication Skill.
Daryanto dan Bintoro. (2014). Manajemen Diklat. Gava Media.
Duy, N. K. et al. (2015). Impact evaluation of training on firms' performance: The case of the small and medium enterprises in Vietnam. Mediterranean Journal of Social Sciences, 6(2), 399–406. https://doi.org/10.5901/mjss.2015.v6n2p399
Gregory, S. et all. (2016). Learning In Virtual Worlds Research And Applications. AU Press, Athabasca University.
Hamid, Farid dan Budianto, H. (2016). Ilmu Komunikasi Sekarang dan Tantangan Masa Depan. Kencana.
Jannah, D. E. N. (2016). Manajemen Pelatihan di Lembaga "Cristal Indonesia Manajemen." Jurnal Pendidikan Administrasi Perkantoran, 5(1).
Julifan, J. (2015). Efektivitas Manajemen Pendidikan Dan Pelatihan Berbasis Kompetensi Bagi Guru. Jurnal Administrasi Pendidikan UPI, 22(2). https://doi.org/10.17509/jap.v22i2.5382
Kementerian Keuangan. (2015). PMK Nomor 234/PMK.01/2015 tentang Organisasi dan Tata Kerja Kementerian Keuangan.
Kementerian Keuangan. (2017). Peraturan Menteri Keuangan Nomor 219 / PMK.0 1 / 20 17 tentang Penilaian Kompetensi Manajerial Melalui Assessment Center di Lingkungan Kemenkeu.
Kirkpatric, Donald L, dan J. D. K. (2008). Evaluating Training Programs. 3 nd. Berret- Koehler Publisher, Inc.
Luthfi, M. (2017). PERAN KOMUNIKASI DALAM ORGANISASI PERUSAHAAN Oleh. Jurnal Warta, 54.
Mansour, M. (2013). Evaluation of Training in Organizations: An Empirical Investigation from a Developing Country. International Journal of Education and Research, 1(6), 1–12. http://www.ijern.com/journal/June-2013/16.pdf
Mujiman, H. (2011). Manajemen Pelatihan Berbasis Belajar Mandiri. Pustaka Pelajar.
Mulyana, D. (2019). Ilmu Komunikasi Suatu Pengantar. Remaja Rosdakarya.
Munir. (2012). Pembelajaran Jarak Jauh Berbasis Teknologi Informasi dan Komunikasi. Alfabeta.
Purwanto. (2016). Evaluasi Hasil Belajar. Pustaka Pelajar.
Qustolani, A. (2017). Pengaruh Kepuasan Kerja, Keadilan Prosedural Dan Kompensasi Terhadap Kinerja Karyawan. Jurnal Ilmiah Manajemen & Akuntansi, 4(Widodo 9).
Richter, Olaf Zawacki and Anderson, T. (2014). Online Distance Education. AU Press, Athabasca University.
Sakthi, T., & Moshi, A. A. M. (2020). Effectiveness measurement study on entrepreneurship awareness camp for technical education students using Kirkpatrick's model. Materials Today: Proceedings, 45(xxxx), 1609–1613. https://doi.org/10.1016/j.matpr.2020.08.419
Sareen, P., & Mishra, S. (2016). A Study of Talent Management and Its Impact on Performance of Organizations. IOSR Journal of Business and Management (IOSR-JBM), 18(12), 66–73. https://doi.org/10.9790/487X-1812036673
Smidt, A., Balandin, S., Sigafoos, J., & Reed, V. A. (2009). The Kirkpatrick model: A useful tool for evaluating training outcomes. Journal of Intellectual and Developmental Disability, 34(3), 266–274. https://doi.org/10.1080/13668250903093125
Sugiyono. (2018). Metode Penelititan Evaluasi (Pendekatan Kuantitatif, Kualitatif dan Kombinasi). Alfabeta.
Sukardi. (2015). Evaluasi Program Pendidikan dan Pelatihan. Bumi Aksara.
Tian, Y., Liu, H., Yin, J., Luo, M., & Wu, G. (2015). Evaluation of simulation-based training for aircraft carrier marshalling with learning cubic and Kirkpatrick's models. Chinese Journal of Aeronautics, 28(1), 152–163. https://doi.org/10.1016/j.cja.2014.12.002
Utomo, AP. dan Priskila, K. (2014). Evaluasi Pelatihan dengan Metode Kirkpatrick Analysis. Jurnal Telematika, 9(2).
Veletsianos, G. (2016). Emergence and Innovation in Digital Learning. AU Press, Athabasca University.
Widoyoko, E. P. (2017). Evaluasi Program Pembelajaran Panduan Praktis Bagi Pendidik dan Calon Pendidik. Pustaka Pelajar.
Widyastuti, Umi dan Purwana, E. D. (2015). EVALUASI PELATIHAN (TRAINING) LEVEL II BERDASARKAN TEORI THE FOUR LEVELS KIRKPATRICK. Jurnal Pendidikan Ekonomi Dan Bisnis, 3(2), 119–128.
Yuliana, R. (2012). PERAN KOMUNIKASI DALAM ORGANISASI. Jurnal STIE Semarang, 4(3).
Zuhriah. (2018). Komunikasi Organisasi (Sebuah Pengantar Teori dan Praktek). In Jurnal Ilmiah Komunikasi Makna. FIS UIN SU.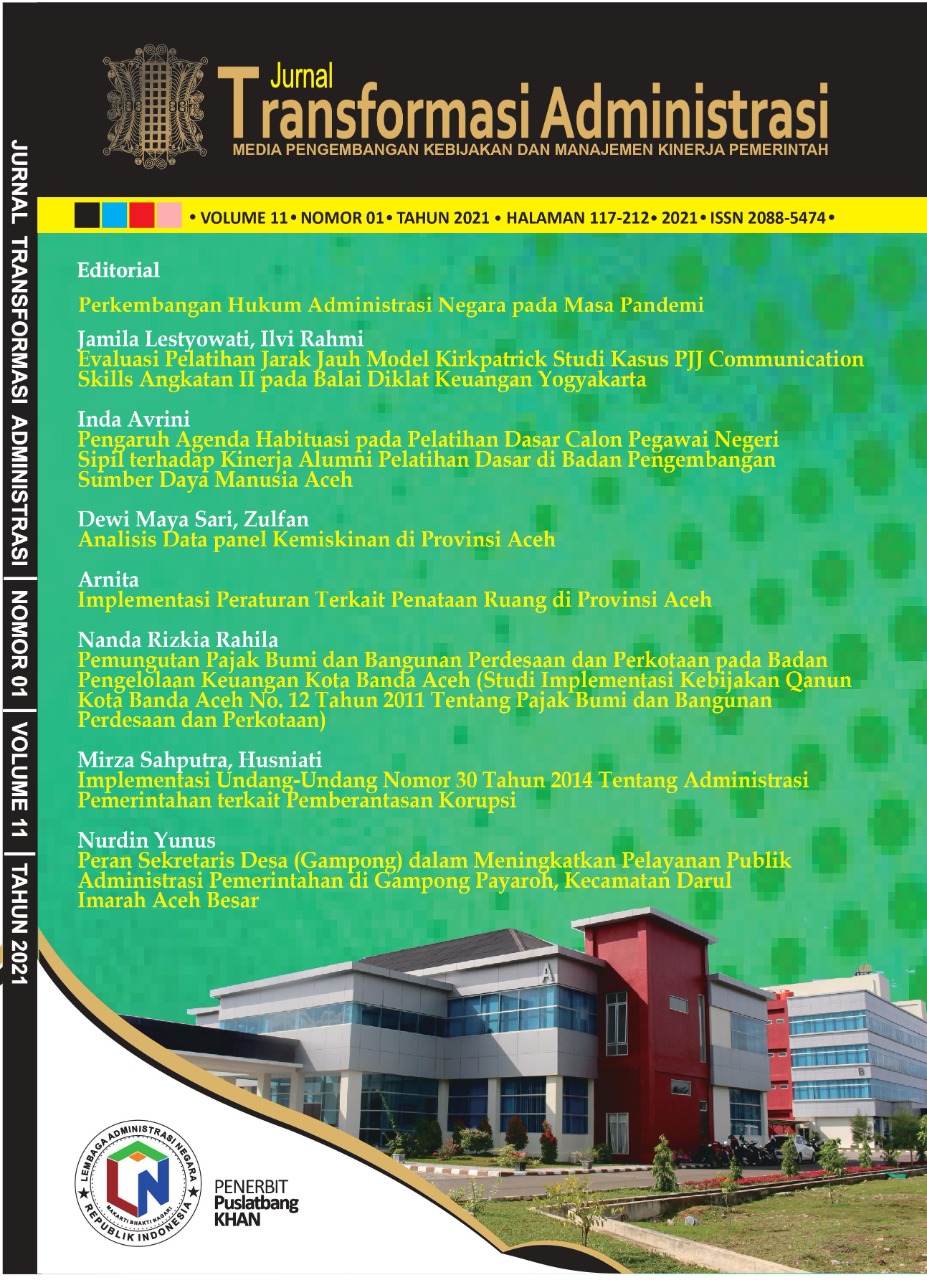 How to Cite
Lestyowati, J., & Rahmi, I. (2021). TRAINING EVALUATION DISTANCE TRAINING EVALUATION OF THE KIRKPATRICK MODEL: A CASE STUDY OF THE COMMUNICATION SKILLS TRAINING BATCH II AT FINANCIAL AND EDUCATION TRAINING AGENCY YOGYAKARTA. Jurnal Transformasi Administrasi, 11(01), 1-19. https://doi.org/10.56196/jta.v11i01.176